Kate Newkirk – Business Manager
Kate grew up in San Diego where she spent countless hours playing sports and riding her bicycle though area canyons. She moved to Los Angeles to attend UCLA, where she graduated with honors with a bachelor's degree in Psychology and Anthropology. She then spent the better part of the next decade working for the Los Angeles Police Department, where she promoted to the rank of Sergeant before undergoing two back surgeries and retiring on a disability. She moved to Pleasant Hill after meeting her future husband, Gene. She completed a Master's degree in Human Resources and Organizational Development at the University of San Francisco, where she learned about the importance of employee empowerment in successful organizations. After graduation, Kate started a home based business, editing master's theses and doctoral dissertations, while focusing on building her family. Kate and Gene pursued domestic adoption and they were both present at their daughter's birth, and continue to enjoy a close relationship with her family of origin. Kate's daughter has learning differences, and the decision was made to discontinue public school after second grade. Kate enrolled her daughter in a Waldorf school, and became a member of the Board of Directors. Kate now serves as the Business Manager of Wild Oak, where her daughter is enrolled in, and loves, the Program!
Meryn Gruhn Di Tullio - Program Director & Lead Teacher
Born in Michigan, but raised in Switzerland, France, New Mexico, and California, Meryn has also spent extended time in Canada, Morocco, South Africa, and Lesotho. She holds an Associate Degree in International Relations from Schiller International University, and a Bachelor of Fine Arts from the Academy of Art University. She is an accomplished painter and sculptor, performer, cellist, award-winning singer/songwriter, composer, and session musician. Wth 20+ years teaching experience in public, private, one on one, and as a homeschool vendor, Meryn finds great joy in creating engaging experiential and responsive curriculum. She is passionate about diversity, and our interconnection to each other and nature. She loves to be outside, camping and hiking with her husband and two sons, one of whom attends Wild Oak.
Kris Abraham - Lead Teacher
Kris was born and raised in the Oakland, San Pablo Bay Area. Always a curious adventurer who enjoyed physical challenges, her passion for being outdoors was nurtured spending much free time exploring Wild Cat Canyon, Tilden, and Briones Regional Parks. Kris has over 20 years of experience as a teacher at The Secret Garden and Creative Play Center, a cooperative preschool and kindergarten, where she served as Director for 10 years. Kris holds a Parent Education Credential and Preschool Teaching Permit, as well as countless hours of continuing education in the areas of learning differences, brain development, positive discipline, nutrition (whole foods), and women's studies. Kris has also taught at Crossroads, a high school for teen mothers, as well as Loma Lista and Martinez Parent Education programs. Kris is an experienced homeschooler and advocate for those who have learning differences. She has been married for 29 years to her soul mate, John, and they have four grown children. They enjoy family dinners together!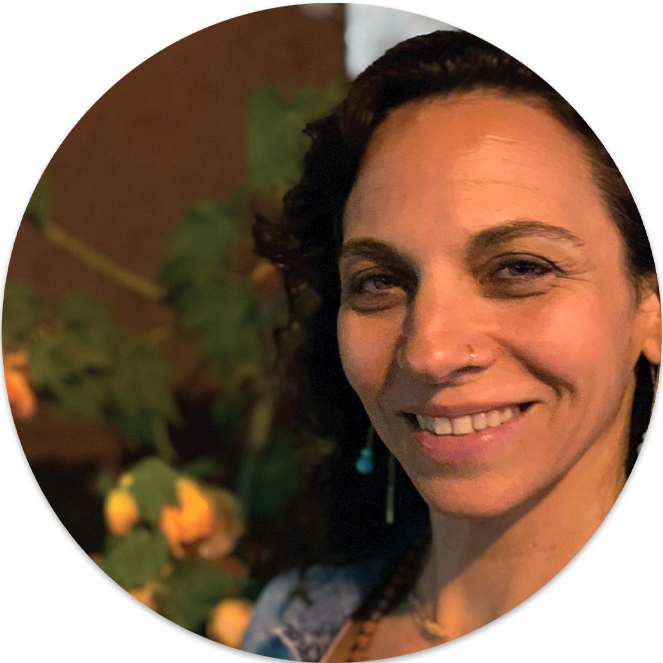 Abigail Terrell - Language Arts Teacher
Abigail (Abi) was born and raised in San Diego, California, and part-time in Ensenada, a small town in Mexico. She graduated with a Bachelor's degree in La Raza Studies from San Francisco State University in 1998, and obtained her teaching credential thereafter. A teacher, education researcher, and curriculum designer with 20 years of experience in education, Abi has worked with children and adults in diverse settings, including a bilingual fourth and fifth grade teacher, art teacher for K-6, curriculum writer for an education marketing company and an Adult ESL instructor at a junior college. She has spent the last 19 years teaching children and adults reading, art, English as a Second Language, character development, and study skills. She believes in reaching and teaching the whole child and inspiring a love for reading and books. She engages children in music, movement, art, theater, and other creative activities to help the children become strong reader-writers and empowered learners. As an adult, she has lived and taught in the Bay Area, New Orleans, New York, San Marcos, and now Wild Oak. She and her husband, John, are high school sweethearts reunited after 17 years. They have a 19 year-old son, John (stepson to Abi), an 8 year-old daughter, Mia, and a 4 year-old son, Jordan. Both younger children attend Wild Oak. Recently, Abi earned a Master's degree in Education, with a focus on Literacy, along with a Reading Literacy Leadership Specialist credential. In March of 2019, Abi began teaching a specialty class extension at Wild Oak called "Let's Read!" This fall, she leads our newest Focus Class of Language Arts.
Jessica Sandholm, Assistant Teacher, and Dance Teacher
Jessica has been a Bay Area resident most of her life. As a child, she was an avid diver and swimmer, and although she was very competitive at both sports, she always felt like something was missing. Nature was missing! At age 12, she moved to the country and got a horse and a dog, and that is when she really came to life. On her horse, she was able to experience the wonders of the world outside the city, navigating the hills and valleys without a compass or phone. Her years of swimming and diving led to jobs teaching swimming and lifeguarding. For many years, she taught dance to all ages with her mom. Studying animals, nature and human impact led her to join the Future Farmers of America (FFA) where she learned leadership and teaching skills. Beginning in 8th grade with FFA, she raised a variety of animals, with sheep as her main focus. She delivered many lambs, and was known as the midwife to sheep; she also helped other students learn to care for their animals. As an assistant to a veterinarian, she helped with a variety of surgeries. Jessica is a dog trainer and walker with a long list of loyal clients. When Jessica was led to Wild Oak, she knew she had found her true calling! With expertise in hiking with children and wilderness safety, she is our outdoors expert. Living with a lifelong learning difference, Jessica shares in Wild Oakś passion for meeting the diverse needs and learning styles of all the children.
Loel Mitchell - Assistant Teacher, and Handwork & Fiber Arts Teacher
Loel Mitchell was born and raised in Atherton, California. An only child, her mother enrolled her at Waldorf School of the Peninsula the year it opened in 1984. After many moves, and many years, Loel finished off her middle school education at Keys School in Palo Alto, before attending Menlo-Atherton high school, where she met her partner only to be reunited ten years later. Together they have 4 children ages 6, 5, 5, and 5 along with two older step-children 14 and 21. A graduate of the Academy of Art University School of Design in San Francisco, she worked as a graphic designer in San Francisco before her children were born. A longtime friend of our program, in the fall of 2018, Loel began teaching the Handwork & Fiber Arts specialty class extension, which includes knitting, as well as many other creative handcrafts. Loel has a wonderful calm demeanor loved by her students, and to which they respond with their best work. With our steady growth, when a need for an additional Teacher arose—Loel was our natural choice! We are delighted to have all four of her children attending Wild Oak.